EUPHORIA INTERNATIONAL  DANCE  BAND

is a Las Vegas Party Band that plays all the Hits; and they are a World Class Live Top 40 Band, Rock Band, Concert Band, Casino band, Corporate Party Band, Special Events Entertainment, Wedding Band, including Trade Show Entertainment, Gala Entertaiment, Benefit Concerts and Conventions.

EUPHORIA INTERNATIONAL DANCE BAND is a Las Vegas Live Corporate Dance Rock Band that provides an extremely memorable night out for your special event, delivering all the Dance Hits from the 70s, 80s, and Current Dance and Rock Songs with their impressive show and extensive Song List.
But it is not just the songs, or the singing and playing. It is the actual entertainment, excitement and wow factor that they will bring to your night that makes this band a big step above the rest. They are willing to go the extra mile to ensure the success to your special once in a lifetime event. BOOK NOW
If  EUPHORIA can't get them dancing, nobody can!
Call Wow Factor Productions: 1-725-600-1521
Euphoria's lead singer is original recording artist Linda Maze, who has also just released a new album and video. You can visit her Website Here to hear her uplifting and inspiring music. Linda fronts the cover band EUPHORIA with professionalism bringing positive energy and enthusiasm to each and every show. She has a real heart for performing, being fulfilled only when she witnesses her audiences having the time of their lives.


Her long time musical partner is the exciting and entertaining lead guitarist and singer Phil Dee.  Phil's most recent live bands include – Canada's Tribute to Abba, and – A Tribute to Fleetwood Mac. Currently he also plays Tom Petty with his tribute band "Totally Tom Petty". You may have caught these show bands, playing in casinos and corporate events across Canada, the US, and most recently, Malaysia. Phil is a real showman and brings the wow-factor to each of his performances.
The band's moto is Go Big or Go Home. This means that they aim to bring a top level performance to each and every show, no matter how large or small their audience attendance may be. However old or young, Your event is extremely important to them.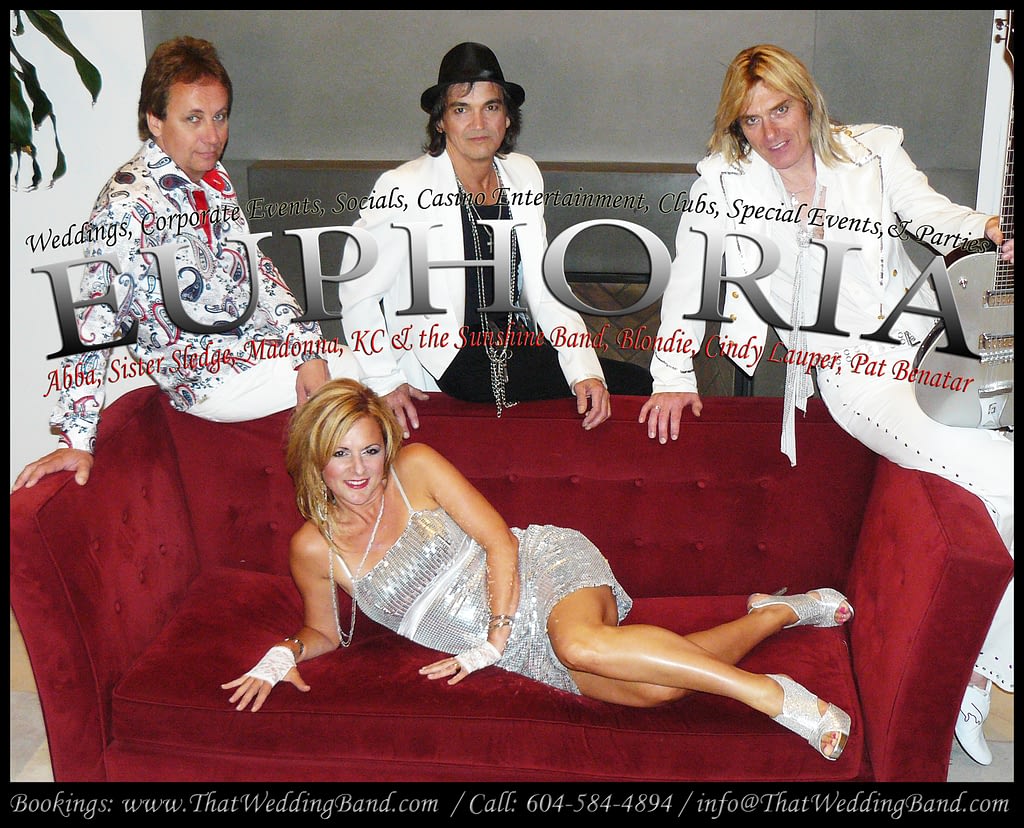 Left to Right top: Randal Von Uubergruuv (drums, bgs), Lyle Johnson (bass, bgs), Phil Dee (guitar and lead vocals), and below Linda Maze (lead singer, guitar).
Because of the versatility of their extensive song list, EUPHORIA can cater to any crowd: to the young and young at heart. The band welcomes requests, and after viewing their Song List here on the site, you can even make your own personal list for your special event. Include that special song you love! Or one you would like to dedicate.
To sum it up, EUPHORIA are highly professional experienced live party band performers with a real heart for getting your party going. They have played for many years for many special important events just like yours and in many countries at clubs, in casinos, at social events, private events, corporate parties, weddings, and the list goes on. This is your special celebration.
Make it a great night to remember with EUPHORIA – International Dance Band.

Reserve this party band now for or your Casino, Corporate Event, Social / Private Party, Casino, Night Club, Wedding or Wrap Party Live Band Entertainment.

Euphoria is a party band that has performed at many destinations world-wide. Their current location is Las Vegas, Nevada. They also fly anywhere worldwide. Book Today for your conference, live venue, festival, or corporate event.
Reserve / Book Quality Live Entertainment now
If  EUPHORIA can't get them dancing, nobody can!
Call Wow Factor Productions: 725-600-1521